Imperial Classical Ballet
(Imperial Society of Teachers of Dancing)
Imperial Classical Ballet offers a clearly defined structure from working through the grades allowing learning to take place in the context of safe dance practice.
Children will learn about co-operation and develop an understanding of expression through dance, as well as building a solid classical technique. From attending this class individuals will gain a sense of performance, rhythmic awareness and a suitable interpretation of the music, use of correct alignment and placing of the body with the correct sense of line and co-ordination of movement and a way to have fun and be creative within a disciplined environment.
---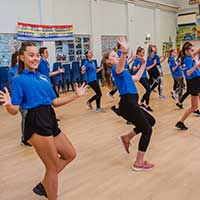 Modern Theatre Dance
(Imperial Society of Teachers of Dancing)
Modern Theatre Dance builds on the technique of Imperial Classical Ballet and develops the physical ability to communicate through movement. Focusing on the grades in classes the main focus of Modern Theatre Dance is to teach correct posture and develop the range of movement within the students' natural capabilities, build a strong technique, promote the understanding and use of dance terminology, to gain a good sense of self-expression, encourage creative movement and promote self-confidence in the performance.
---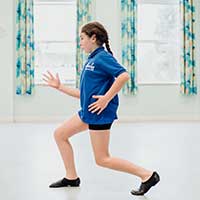 Tap Dance
(Imperial Society of Teachers of Dancing)
Tap Dance educates individuals in a strong understanding of rhythms and their development. Working safely through the graded development, it teaches correct posture for tap to build a secure Tap technique, development of tonal qualities, gain a good sense of line through body, arms and head, developing awareness of sense of performance, encouraging a sense of self-expression and creative use of rhythm and movement and promoting self confidence in an enjoyable yet disciplined environment.
---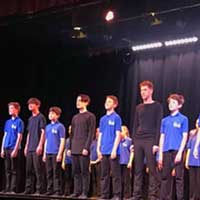 Musical Theatre
(London College of Music)
The London College of Music (LCM) is the largest specialist Music and Performing Arts institute in the UK offering a wide range of innovative courses including Musical Theatre which we focus on, providing exams in solos, duets and groups. The exams are renowned for their informality, friendliness and approachability, although set in a fully professional and modern context. This class encourages creative thinking and practical skills both which assist technically and critically in learning about the repertoire performed, a distinctively broad stylistic range of endorsements and repertoire being studied.
---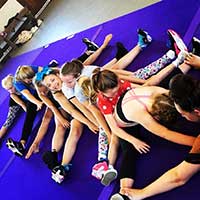 Acrobatic Arts
The Acrobatic Arts Program is based on safe and effective progressions with proven results in five divisions of AcroDance: Flexibility, Strength, Balancing, Limbering and Tumbling. You will not find a more comprehensive program, a fusion of classic dance technique and the precision of acrobatic elements. It has simple thoughtful progressions that take any level dancer from log rolls to advanced tumbling